Sorry, there aren't any upcoming gigs right now. Check back soon!
See the schedule for even more dates.
HELLO FRIENDS!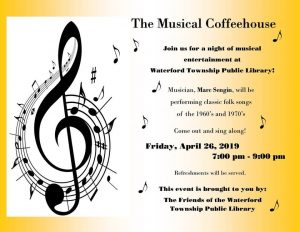 Well, I finally got a gig north of the Mason-Dixon line!
The closest thing you'll find to the original coffee houses of the '60s – '70s. Music – Camaraderie – Coffee. NON-PROFIT.
I will be performing 2 sets with an intermission in a very small intimate setting. A small venue allows me to converse with the audience, perform songs not suitable for large crowds such as touching ballads, songs w/humor, songs where the words matter.
NO COVER. Donations for drinks and snacks.
2204 Atco Ave, Atco, New Jersey 08004 (856) 767-7727
C'mon out and say hello! It's not too far!!
SUPPORT LIVE MUSIC!!
About Marc's Music


Marc's love of musical performance was re-initiated in 1995 after years of absence, only now it was something different altogether.
He combined his eternal love for singing with self-taught acoustic guitar accompaniment.
The selections are the "Folk & Pop Songs of the 60's & 70's", some of the greatest songs ever written in this genre.

You know… the songs of Bob Dylan, Cat Stevens, Joni Mitchell, Beatles, John Denver, Crosby-Stills-and Nash, etc.
These songs need to remembered and kept alive through performance.  In addition to the music, the messages can be profound.
Marc's musical services are available for private parties, cocktails, community events, dedications, background music, funerals, retirement communities, restaurants, coffee houses, etc. Contact Me Now!